Have you ever walked into a room full of sullen face people and said "Hey! Who died?" and then wished you didn't? Because someone did? Or perhaps you've found other ways to put your foot in your mouth. Perhaps you weren't aware that your friend Trixie is still sensitive about her sons's sex change operation only to have you go on and on about the removal of your cat's genitals each and every time you see Trixie and Good Lord, what is WRONG with you?
Well, at least you can feel secure in the knowledge that Google's email program (called "gmail") has addressed such sensitivities. You know those sidebar ads – excuse me, "Sponsored Links" that pop up with allegedly related content?
Like when your Uncle Hogbert wants to know which goats you hired the other day for some light housekeeping:
See those "Sponsored Links" on the right-hand side? There's some genius algorithm that searches the content of your email in the hopes of serving relevant ads to you.
However, in the event you receive some sensitive, potentially catastrophic news via email, Google has seen fit to shut the hell up and let you sit in your sensitive space undisturbed…
See how there are no ads? That's because they are being SENSITIVE to the feelings you might have during this trying time.
Now, I don't want to get nit-picky or anything, but sometimes Google is socially clueless and their email bots – excuse me, "automated filters" can't sense when danger is afoot, and they continue to bombard you with ads.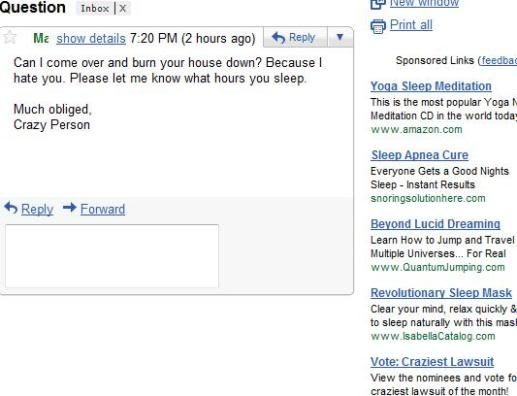 And other times, when you're feeling really really really uncomfortable, Google can't seem to read between the lines: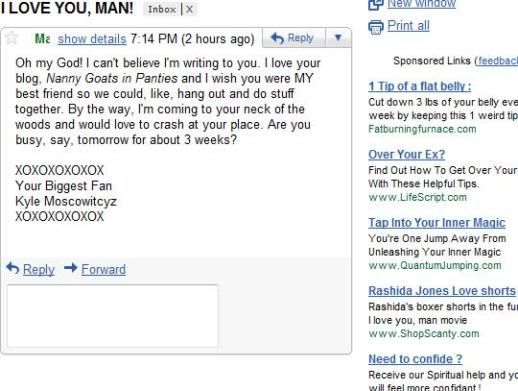 That's because they block ads according to a specific list of key words, like SUICIDE or DEATH, regardless of how a specific email might make you feel. For example you might not necessarily be getting bad news: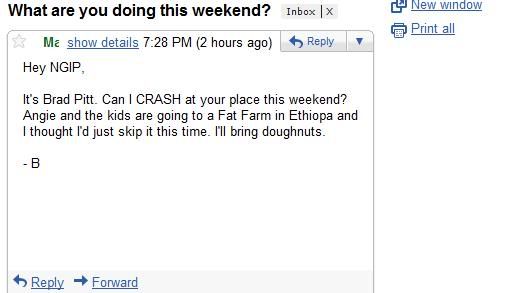 and yet, they feel it would be appropriate to block ads in this instance because of the use of the word CRASH. Nevermind the fact that the word CRASH was also in the previous email. You know, the really really really uncomfortable one.
Also? Google overreacts to this one as well: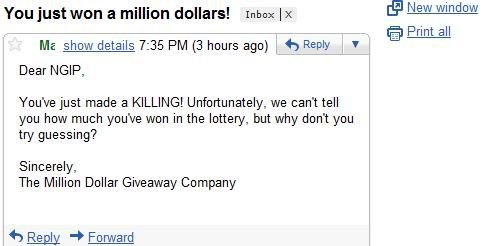 I'm assuming Google must have responded to outcries from all the people who felt offended by ads popping up as they notified others via email that someone had tragically died. Those same people who don't give a crap about you and can't be bothered to make a personal phone call. THOSE people are outraged that Google was insensitive.
So what good is this information to you? Well, I'm glad you asked because I was just about to address this very topic, but wait, watch this:

You see what I did there? Look ma, no ads!
That's right. All you have to do is figure out what key words will automatically filter out the ads and be sure to include at least one in your email.
I conclude with a wonderful sample email to send to loved ones, particularly the elderly who are still trying to adjust to this new-fangled technology. The last thing you want is for Grandma to be so overwhelmed with advertisments that it gets in the way of the actual message you're trying to send her and then that's all she can think about the rest of the week.
Just try and be thoughtful for once in your life and slip in a keyword to all your friends and family the next time you want to tell them you love them.
See? Now, wasn't that nice?


For those of you who haven't heard, I was interviewed by Powder Room Graffiti, and they got all up in my grill, digging for personal stuff. You can read the sordid details here. Feel free to vote it up or comment at the end. It will fool them into thinking I'm really popular.


Speaking of commercials, have you seen the one about the Goat Renter Guy? I hadn't until Jay from Sassmo's Blog showed it to me.
If video above doesn't work, try THIS LINK.