For the last ten years or so, I've been waking up in the morning, not sure at first which bed I'm in. If you don't know who you're going to wake up next to each morning, it's time to simplify your life.
And I thought I was. Of course, when you live in two cities, four hundred miles apart, owning two of everything doesn't exactly have a minimizing effect. In fact, anything you do to simplify your ridiculously overstuffed existence is a joke as long as your TWO HOUSES and WEEKLY PLANE TRIPS are beating you about the face and neck. What is that you're doing? Donating a bag of books to the library? HA! I laugh at your silly gesture of reduction. Why not try laying off the Southwest Airlines commute? Or hey, I know! What about moving in with your husband after 9 years of marriage and getting rid of half your stuff in one fell swoop, huh? Is THAT simple enough for ya?
What I can't (or shouldn't) do right now is sell my house in Los Angeles. And so I must rent. Blech.
"Landlord" is a four letter word. It conjures up images of Eddie Murphy wanting to kill one. Where did that word come from, anyway: Landlord? It sounds like some medieval concept from England where one is Lord of the Land. Yes, I am Lord of my Land and I command thee to hand over thy hard-earned farthings for the privelege of living on this land of mine of which I am Lord lest I throw ye in the dungeon!
I just want the people to pay the rent on time and not break my stuff. Is that too much to ask? Will I have to put signs all over the property like this one that I saw on the Passive Aggressive Notes blog?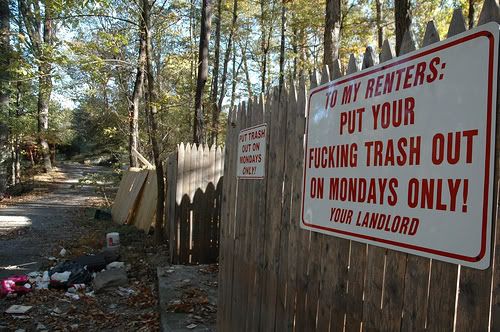 And don't you think I should be worrying about finding a tenant first, before worrying about how they are going to destroy my brand new kitchen? And how they are going to let their over-the-size-limit dog pee all over my brand new floors and let pee puddles sit there for days, staining in the shapes of various US Presidential profiles?
Oh, and please do tell me all your landlord/tenant horror stories so that I can lose as much sleep as possible.
I'm going to be one cantankerous SOB when I grow up.
And speaking of Cantankerous people…
I ask you: Who stops to blog while waiting for the ambulance to arrive? Talking about "If I don't make it, it's been nice and all." Who opens their next blog post from their hospital bed with "I'm in renal failure"? And then writes another post that unfolds the drama of what happened after the ambulance arrived?
Joe from Crotchety Old Man Yells at Cars. That's who! And for such dedication and blogger bravery in the face of renal failure, I am giving him the Purple Kidney Blogger Award.
Joe, you've got a whole internet fan base (plus the HBDC community) behind you right now wishing you and Mrs. C the best. Get well soon, buddy!
If you don't know the Crotchety Old Man, go over and say hello and wish him a speedy recovery. And I'll let him tell you the ambulance waiting story HERE. (Tell him Nanny Goats sent ya!)

Okay, kids. Brace yourself for this next picture. It was shown to me by Mike from Mike's Mixed Memories.