So this spammer person on Twitter with the very legitimate sounding name of Fulton604 started following me. Like a trenchcoat-wearing dark alley hoodlum who says, "Psst! Hey, buddy" kind of following me. Fulton604 is following 1,299 people, but only has 67 followers. I wonder what that means.
Actually, it makes me want to change my name to Plexus437. It sounds so cool. Like an alien space ship / area code mashup. Or, HEY – I know. This will be a new thing like
How To Create Your Twitter Handle in Two Easy Steps:
1. Take the make or model of your first car.
2. Guess how many Jelly Bellies are in this Elvis portrait: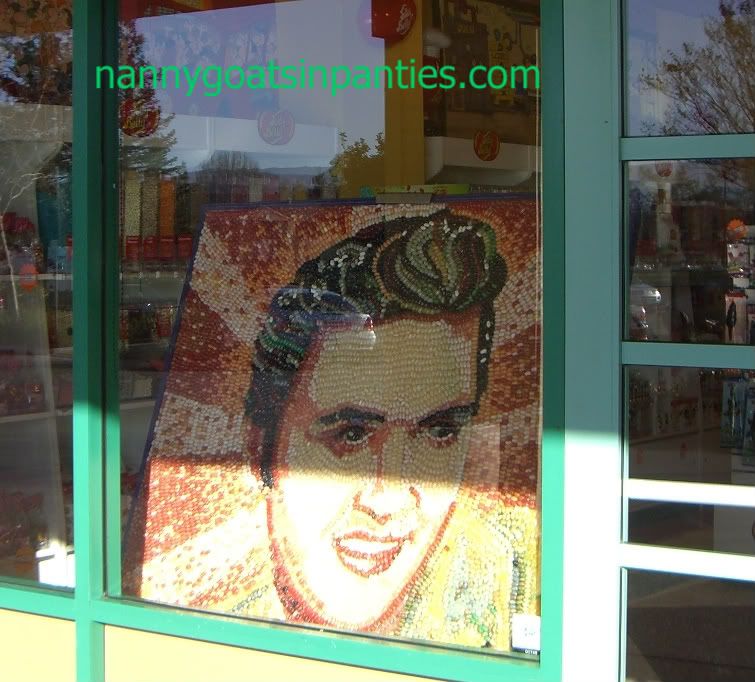 Put the two together and you've got your next Twitter handle! Mine would be Datsun18. No wait! Datsun19.
Fulton604's last tweet wants to know if I'm an older guy looking for a hot girl to take out and treat me right.
Why, yes. Yes I am. How did you know? Was it my masculine first name that made you think I was male? Was it all my twitter messages about adult diapers and cryogenic head preserving that clued you in to the fact that I'm "older"? And who isn't looking for a hot girl? You are SO smart. You're my hero, Fulton604. I wish I was just. like. you.
Then Fulton604 broke my heart. When I checked his Twitter page a couple days later, it was gone. GONE! I panicked. Where was I going to find "easyurl" hot girls now? I hyperventilated as I felt my new twitter buddy slip right out of my hands. I cried. I sobbed. I bawled.
Then I got this email:
Whew! I thought I'd lost him. And Velva? Yeah, that doesn't sound sexual or anything.
Follow me on Twitter!
See also: Need Help With Your Twitter Bio? Actually That Wasn't a Question.