Here's what I don't get: You haul your ass down to Hollywood Boulevard in Los Angeles, taking your out-of-town visitors with you, to show off an historic landmark – The Hollywood Sidewalk of Stars, or whatever it's called (don't ask me, I just live here.)
But you're walking…
and you're walking…
Who ARE these people? They take the 'Fame' out of Walk of Fame! (Oh, yeah…that's the name of this place)
I say that last one was made up! Lurene Tuttle? Really?
Anybody remember that M.A.S.H. episode where they made up a guy named Tuttle? Had everyone convinced the guy existed? Hot Lips thought she was in love with the guy – that they dated!?
Well if this so-called Tuttle can get a star, why can't Nanny Goats get one?
But then I heard that you can BUY these things. So you know what I did?
Yep!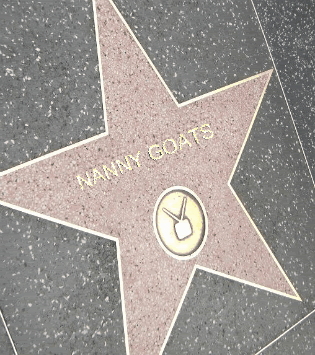 Yeah, you probably caught the frenetic paparazzi scene on Showbiz Tonight last week when they unveiled this baby. The Walk of Fame Chairman thanked me for classing up the street with the mere presence of my name. Because EVERYBODY knows who I am, right? Unlike these bozos:
I can't believe they allow fictional characters. That's right! I'm talking to YOU, Johnny Depp!
So anyway, the next time you're in Los Angeles cruising Hollywood Boulevard, be sure to keep an eye out for my star. Just look for the long line of fans wearing Souvenir Goat Head NGIP Gullible Stalker Chrome Dome Warmers (only $75.00 USD) and waiting for hours just to catch a glimpse of their idol's piece of cement.
Up next, I'll be purchasing a spot on the Senate floor Academy Awards nomination list for best picture: Nanny Goats in Panties Brokeback What You Did Last Summer.

Meet Pricilla:
She is the spokesgoat for Happy Goats Soap. She pushes products made from her milk, such as the I Love My Goat Soap.
You can also visit Pricilla at her blog called The Maaaaa of Pricilla.