Okay, everybody's got New Year's resolutions and NGIP will be hosting a New Year's Resolution Campaign beginning Monday, December 28, 2009. On that day, I will post my own New Year's Resolutions with one of those Linky widgets at the end that will allow YOU to enter the URL of YOUR OWN New Year's Resolution post.
In your Resolution post, you can link back to my Resolution post on Nanny Goats in Panties (https://www.nannygoatsinpanties.com/2009/12/new-years-resolutions-for-2010-and-not.html) and let your readers know that you are participating in the "This Time I Really Mean It!" campaign. Linking back to NGIP is not obligatory, but it will give your readers the chance to participate as well. Feel free to steal any of the campaign buttons below to use on your blog, if you wish.
So start thinking now of your list of resolutions and then come on over to the Resolution Post on NGIP and LINK UP on Monday, Dec 28, 2009. Your list can be serious or funny or whatever. Use your imagination! You can have other stuff in your post too, as long as you've got a list of resolutions in there somewhere.
Feel free to steal a campaign button below if you wish. To grab a button, you can either cut and paste the HTML code below, or you can right-click on one of the images to save it to your computer.
(If you have any questions, just ask it in the comments.)
This campaign button measures 200×190: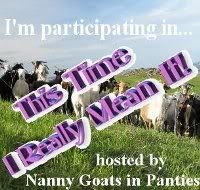 This campaign button measures 150×143